The Film
Imagine you live near a field, near a farm, where everyday seven huge tractors tear up the dusty ground sending plumes of dirt up into the sky. All the houses on your block, all the trees, and every tended garden are the color and shape of dirt. Instead of shoveling snow outside midwinter, every day you shovel dirt. No tomatoes in your garden, your lungs struggle to filter oxygen from the suffocating air, and the only squirrels you see anymore are in books.

How long do you think would you let that last? How long until you stood in front of those tractors yourself, and defied them one more inch of sacred ground?

I'd give you one day. One day for the tolerance in you to turn into the fighter in you.

Now what would you do if I told you that the picture in your mind right now, is reality... That field is the bottom of NY's Oyster Bay Harbor. Those seven tractors are seven hydraulic dredge boats. That suffocating air is the suffocating water that hydraulic dredge boats leave in their paths five days a week, every week of the year, killing the very same plants and animals that once supported the thriving harbor.

Just because you can't see something happening, doesn't mean it isn't.

By supporting the making of this documentary film, The Bay of Imbalance, you will be helping us show the world what no one sees - because it all happens underwater.
The Team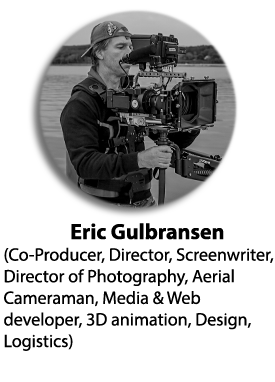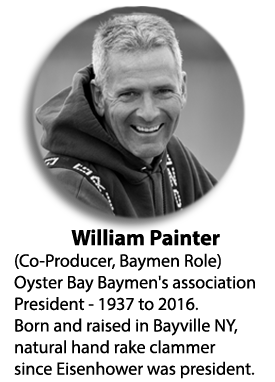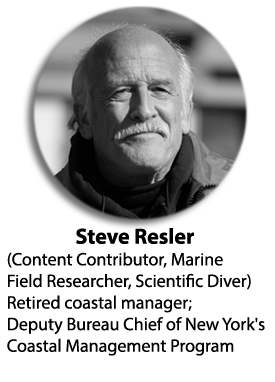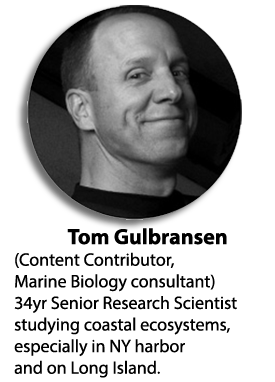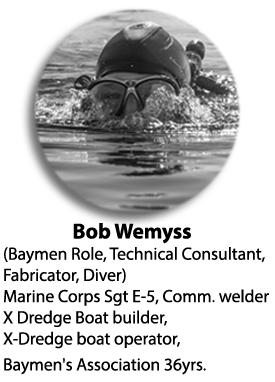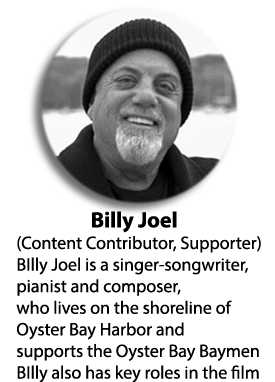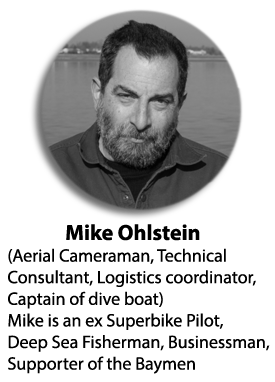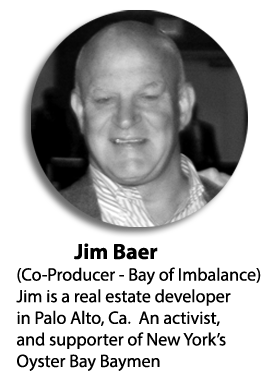 Why Making This Film Matters
The Baymen believe that when people are made aware of what actually goes on out there under the waters of Oyster Bay Harbor, the public will put a stop to what local government has failed to.  Hydraulic shellfish dredging will be outlawed in Oyster Bay, just like it was outlawed in Huntington Harbor just a stone's throw away.  The purpose of film is to share the truth, the facts, about an issue that affects the harbor's plants, animals, the ecosystem and the environment as a whole for every single one of us - near and far.

Nature is a wonderful, powerful thing.  We admire it, we rely on it, but unfortunately sometimes we abuse it.  Oyster Bay Harbor has been carelessly, greedily abused for decades.  That's why this film matters - this film is about people standing up for nature. For the environment. For our home.
The Devastation
Due to the effects of 60 years of unregulated commercial hydraulic shellfish dredging in Oyster Bay Harbor, what was once a flourishing Bay bottom is now covered in twelve feet of silt. The naturally occurring oysters that gave the bay it's name some 400 years ago are all but gone now. Clams are scarce, fish populations have drastically diminished, lobsters are gone and even local wildlife has been affected. But unlike the irreversible stories of animals gone extinct, or vast lands now developed, Oyster Bay Harbor's struggle for life is fixable – because it's villain is artificial.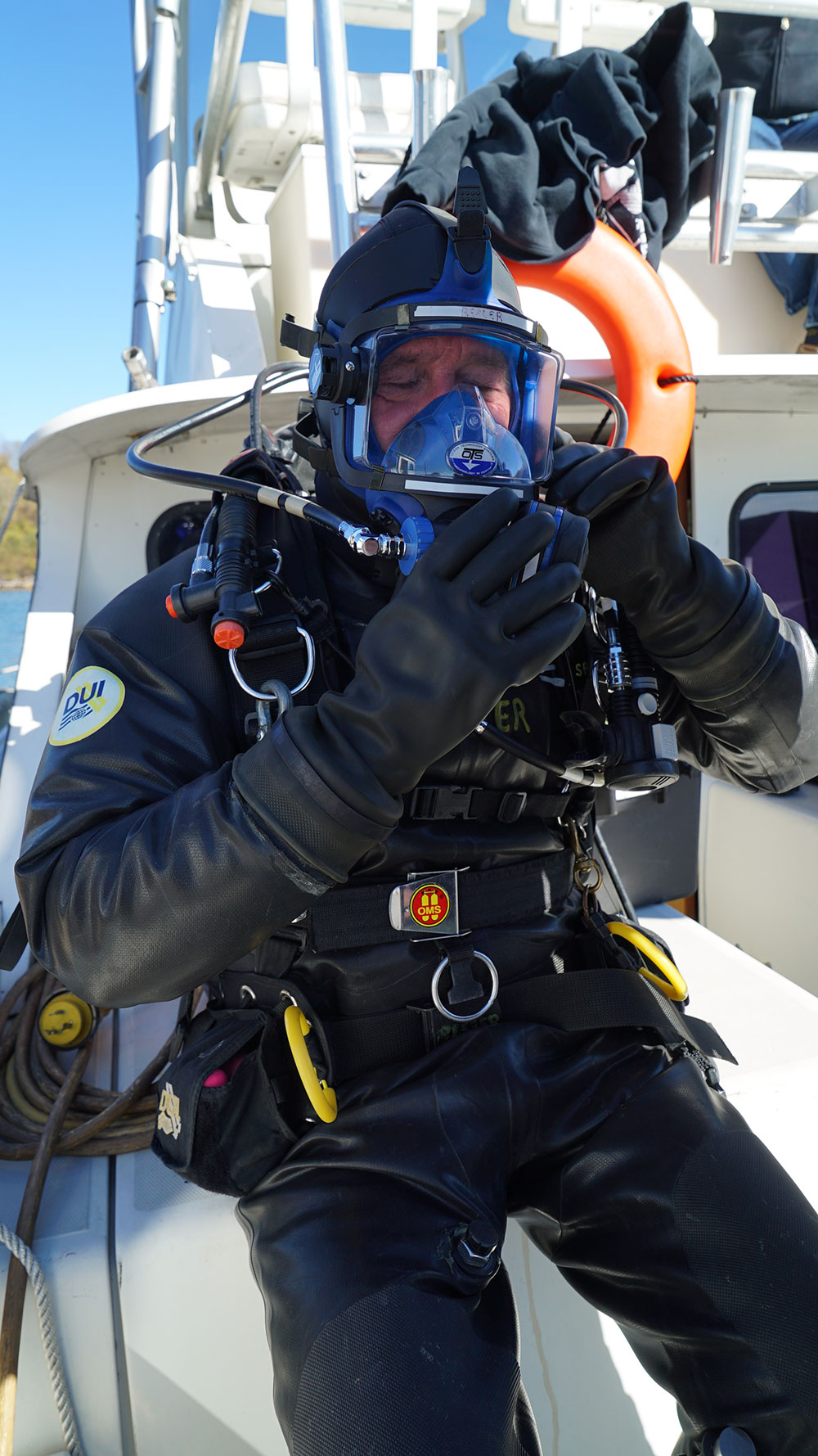 The Challenge
Our fundraising goal here is a humbling $50,000.  In reality we passed this number six months ago.  Our actual costs are far greater by now but money is not our goal here.  Change is our goal.  Saving the environment is our goal.  Exposing a deeply guarded reality in Oyster Bay Harbor is our goal.

Production expenses:


Rental fees: scuba equipment, Oxygen, hydraulic pumps, underwater camera housing, drone, two complete camera setups, lenses, mics, field recorders, two blimp setups, boom, tripods/heads, camera dolly/rails, Gyro stabilizer, Steadicam, Rental Insurance fees, etc.


Production Related Costs: Boat fees, Airline travel, car rentals, gas, diesel, design and fabrication, steel rod, I-beams, fittings, shipping cases, shipping fees, insurance, etc.


Post Production: Hard drives, Editing, Colorist, Audio work, musical scores and licensing, Software, narration, writing


Distribution: Marketing costs, Film festival entries, broadcast


Our Story
Two and a half years into this production, funded mainly with our own blood sweat and tears, the Baymen and I have accomplished an impressive amount of work.  If someone told me on day-1 that research scientists would be contributing to this film, biologists, ex-dredge boat builders and operators, veteran shell-fishermen from other harbors, fabricators, an Oyster Bay historian and even Billy Joel of all people..? I would not have believed it. Yet here we are. This film has more potential today than anyone ever dreamed it would. Good brings good- which is what got you here.  I hope you feel this project is worthy of your support.
Thank you,

Eric Gulbransen, and The North Oyster Bay Baymen's Association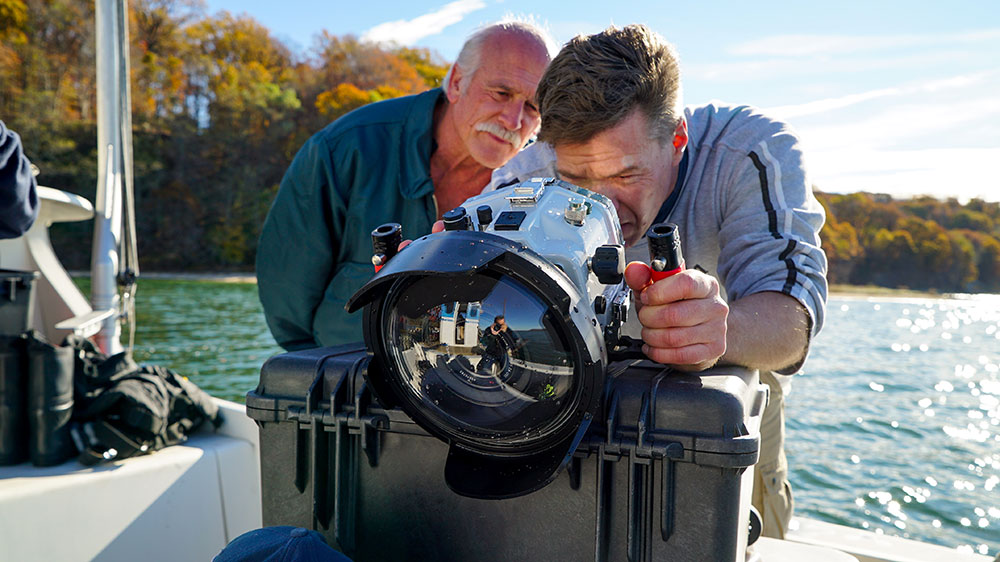 Keep up the great work Baymen

$100.00

Joseph Valentine

02/27/2017

Carlyl J Benjamin

02/27/2017

Robert & Wendy Smith

02/27/2017

Lou Ann Thompson

02/27/2017

Goodnight Sonny's Bar NYC

02/27/2017

Good luck men come back soon!

$1,400.00

Oyster Bay Brewing Co.

02/27/2017

Great fundraising night at Oyster Bay Brewing Company!

$5,160.00

Looking forward to a brighter future for Oyster Bay

$1,000.00

William Painter

03/18/2017

The value of a man should be seen in what he gives and not in what he is able to receive. A. Einstein

$200.00

Thanks for all your help Eric

$400.00

CAN'T WAIT T SEE THIS DOCUMENTARY!!!

$50.00

In memory of Mike Michael Bertino

$50.00

In memory of our own Old Man of the Sea we miss you Dad.

$100.00

in memory of Bob sniffen from the Royal Order of Pink Pigs

$263.00

In Loving Memory of Dick Galanek

$50.00

perserverance nourishes hope. hope nourishes success!

$50.00

Thinking of Mr. Sniffen. xox

$30.00

Never doubt that a small group of thoughtful committed citizens can change the world indeed it's the only thing that ever has. M. Mead

$200.00

GoGo, thank you for putting the time in to make a difference!!

$10.00

Great film and a great cause. Protect our gem. XL please

$35.00

You are doing a good thing. Thanks and best of luck!

$50.00

In honor of my grandfather who instilled in me a great love for Oyster Bay and the Baymen who work the harbor.

$100.00

Keep up the good fight! Jason Jenn

$100.00

Wishing you good fortune with this important film.

$100.00

This donation is fromyour Childhood Friendand the Berndes Family.

$500.00

Keep up the great work that you do for the bay and those that love it

$35.00

Be faithful in small things because it is in them that your strength lies.

$25.00

FROM THE SACK FAMILY- GOOD LUCK!

$100.00

Two larges, one xl por favor sugar tits

$200.00

Marine dredging in all forms has to stop.

$100.00

Shirt size XXL, Blue please

$35.00